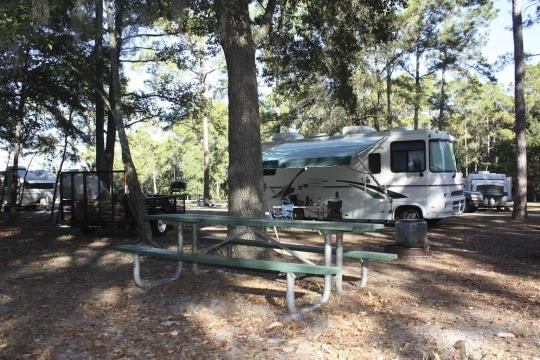 Rodman Camp Ground
108 Rodman Dam Rd.
Palatka FL 32177
Phone:
386-326-2846
Hours:
8 a.m. until sundown
Fees: Free Day Use
The 9,500 acre Rodman Reservoir is perennially rated in the Top 10 Trophy Bass Lakes in Florida by the Florida Fish and Wildlife Conservation Commission.
The 67-site Rodman Campground is located approximately 9 miles southwest of Palatka off of State Route 19 on Rodman Dam Road.
The Rodman Reservoir provides a diverse and extensive habitat for not only trophy fish, but numerous avian species as well. Many endangered and threatened species of wading birds, waterfowl, bald eagles and others use the reservoir, particularly during the cooler months. There are also numerous alligators, turtles and even manatees that live in and travel through the reservoir seasonally.